Web Design Mississauga, ON
WordPress

Web Design Mississauga

Increasing demand for web design Mississauga has a rapid growth in the recent decades that has successfully transformed the city into an efficient center for web design services. Numerous technology-based businesses, start-ups, and creative entrepreneurs call the city home. With firms ranging from tiny businesses to international multinationals, it enjoys a broad business landscape. Due to this versatility, web design Mississauga has become a key to success in a variety of sectors, including manufacturing, healthcare, finance, and more.
Website Design
Mississauga
In order to understand the website design Mississauga market, let's first understand website designing in a nutshell first. Simply put, it is the area of digital marketing that controls the appearance of your website. Here are the key elements of a proficient web design:
developing the structure and appearance of websites;
the layout of a website's pages;
the color and font selections made;
the branding of the company with its own logo; etc.
Besides the aforementioned, the effectiveness of a website's content and search engine optimization also largely influences its framework and design. The total user experience of your potential clients may be impacted by
website design Mississauga
in many different ways. Whether you have an eCommerce website or just a blog that provides information, skilled website designers may do genuine miracles for it. Here are some of them:
Create a favorable first impression of your company;
Improve your internet visibility; Develop self-assurance and gain website visitors' trust;
Encourage potential consumers to make a purchase for you to increase your revenue;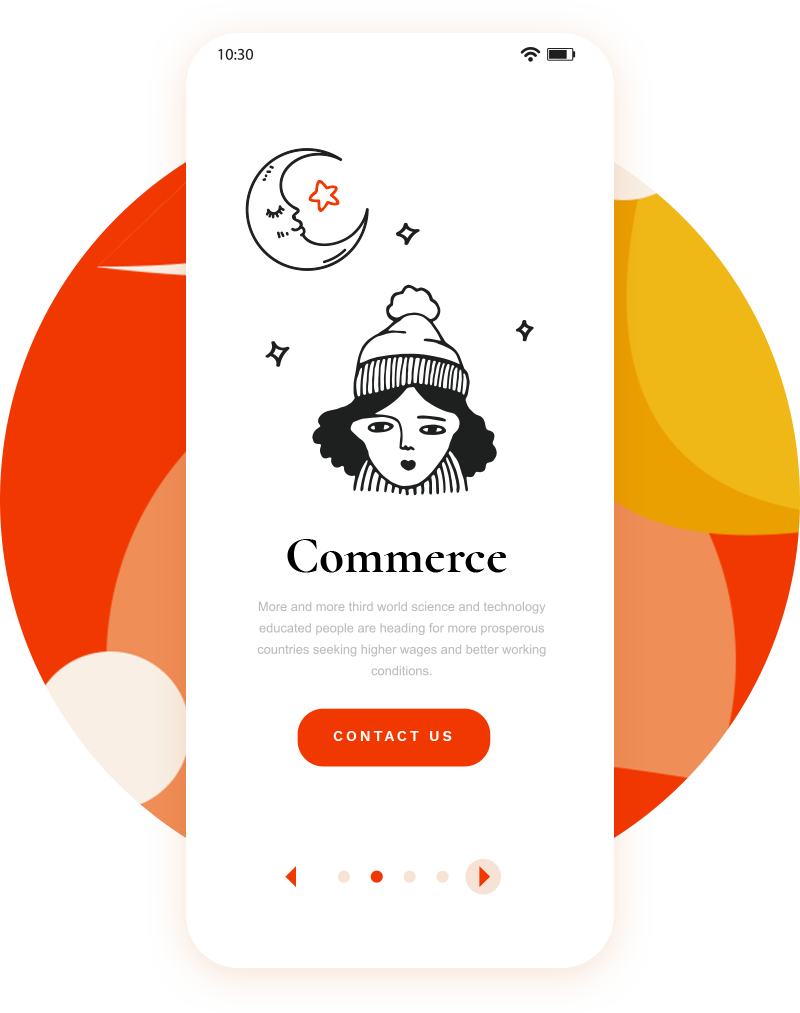 The Best
Mississauga

Web Design Services
In the current digital era, having an engaging and user-friendly website is crucial for any company looking to establish itself online. The need for excellent web design services Mississauga services is rising as more companies in the city have begun recognising the value of having a strong online presence. Finding the best web design service provider may make all the difference in accomplishing your online goals, whether you run a tiny local business, a major corporation, or something in between.
At Ora Infotech, we are a Top rated website design Mississauga agency, specializing in custom web design helps businesses to achieve their specific goals.
Our team of top web designers has the experience and expertise to create a website from scratch that not only looks great but also responsive and modern looks works best on human thought as well as feel good. Where it flawlessly delivers results.
We approach each project individually and collaborate with you to build a website that captures your distinct tastes and goals. We can help you with anything; from a straightforward brochure website to an e-commerce platform for online product sales to a sophisticated web application to run your firm.
Our Mississauga web development company specializes in making bespoke websites that are suited to your particular requirements. We may provide you with a basic brochure site to advertise your company, an e-commerce platform to sell your items online, or a sophisticated web application to run your firm. Our team of top WordPress Design & Development Toronto, On, Canada professionals has the knowledge and skills to produce a website that not only looks fantastic but also performs perfectly and yields results.
Advantages of Hiring Ora Infotech's Professional Web Designers in Mississauga
When creating an online presence through bespoke websites, it is necessary to rely on experienced, skilled and efficient web design Mississauga agency. With years of experience in providing chic, responsive and persuasive websites that can not only help establish a brand identity but also drive sales. The advantages of collaborating with us is manifold, which you can find below:
● Effective WordPress Design Services
WordPress is one of the most widely used seasoned content management systems today. It's strong, adaptable, and simple to use, making it ideal for organizations that wish to manage their own websites.
We specialize in building bespoke WordPress themes that are personalized to your business and audience at our Mississauga WordPress design firm. We can help you develop a WordPress site that reflects your distinct style and vision, whether you're beginning from scratch or looking to renovate an existing site.
One of our clients' top choices is custom WordPress development. We recognise that no two businesses are identical, which is why we tackle each job individually. As a top notch web design Mississauga agency, we will work with you to develop a WordPress site that matches your demands and represents your unique style and vision, whether you need a basic WordPress landing page or a large web application.
● Customization is the key
Our team of skilled website design Mississauga has years of expertise designing bespoke custom websites that are suited to your specific requirements. We'll collaborate with you to understand your company and your target audience, then design a website that expresses your brand and engages your visitors.
Our team also offers Web design and Development services in the wake of Responsive Website Design. With the number of people accessing the internet via mobile phones is growing manifold, having an operational and responsive website, apart from being aesthetic, is significant for success. We provide the best responsive website design services which looks appealing, and works efficiently on all types of devices, be it laptops, desktop or mobile phones.
● Cross Category Expertise
Our team is composed of an experienced and talented pool of Mississauga web designer, who offer the most lucrative web design services. They have served a variety of industries, commonly including logistics, travel booking, appointment, flight booking, payment integration, and many more. Our web developers are widely considered for customizing Jet flight bookings that correlates to the business mode of travel companies.
At Ora Infotech, we offer our commitment towards providing your the best integration of flight reservations which will ultimately revolutionize the travel industry. The consumer experience will witness a boost, with an option of browsing flights, following up with schedules, and booking of tickets online. What's cherry on the top is that everything comes under the same roof.
We can customize our services in enhancing the logistics sector to help you improve your company operations and make it simpler to manage orders, track shipments, and send updates to clients. Our website design Missaussaga developers can design unique plugins that interact with your existing logistical systems, giving your clients a smooth experience and increasing your productivity in Canada.
Our team also specializes in developing payment integration that helps in handling of payments safely and quickly on your website. As an esteemed web design Mississauga agency, we can integrate a variety of payment methods into your site, making it simple for your consumers to pay for items and services directly on your site. We can also customize the payment procedure to fit your logo and provide a seamless and safe customer experience.
● Win The Race With Our SEO
Developing an engaging website is merely the first step. To fully flourish online, you must ensure that your website is visible to your target audience. This is where our Search Engine Optimisation service (SEO) comes in.
Our web design Mississauga professionals and SEO digital marketing professionals understand the value of a properly-optimized site, and we'll work with you to produce a site that's optimized to rank high in search engines like Google. From keyword research and on-page optimisation to link building and content marketing, we will work with you to create a complete SEO plan that generates traffic and leads to your website.
As a top rated web design Mississauga agency, you can rely on us and relax, while we create the best web design for your company.
Is

Web Design Mississauga Expensive?
The cost of a website is comparable to the cost of a car; it all relies on the amount of customisation and functionality desired. Most web design Mississauga services charge an hourly cost that normally varies from $60 to $250 per hour. At our Mississauga web design firm, we provide hourly prices in the center of this spectrum, remaining consistently competitive while utilizing our skills to give the finest possible custom website design services.
The average cost of a responsive website based on a custom WordPress backend is between $15,000 and $35,000. More complicated requirements, such as eCommerce capabilities, customer portals, or other advanced website features, often drive the higher end of this pricing range.
Overall, the price of a website design is determined by your individual goals and functionality requirements. Working with a respected Mississauga web design firm like us firm will provide you with a personalized price that takes into account all of the aspects that go into designing a website that matches your specific demands and goals.
If you're looking to hire a web designer mississauga who is experienced and skillful, look no further than us. With years of experience and a track record of success, we're the premier choice for businesses that want to create a strong online presence. Contact us today to learn more about our custom WordPress development, search engine optimization, and other web design Mississauga services. We look forward to helping you take your business to the next level with a custom website that truly reflects your brand and engages your audience.
What
our

client think about ORA

Very professional team, very detail oriented, got work done in a timely manner, and always there to assist and support whenever needed. Mitul and his team were great throughout!

These guys did what EVERYONE on fiverr said
was impossible
. I'm not exaggerating. I needed my square up account added to a site that was
Built on a custom PHP/CSS platform
. The developer themselves said
there was no way of making
this happen. I took a chance with this team and they worked their magic. Extra clear communication and were able to help me clarify my own points. I have them in
my Fav's
because i will be back for them. They also have the ability to I'm prove the code on my site. I'm
extremely pleased with the work
they have done and for sure i will be back. Thank you for the amazing work.

I have worked with many freelancers and agencies using different platforms but unfortunately, they failed to give quality work on time and demand for payment. Disappear after receiving payment, was the common problem for me, even though I was using portals. Ora Infotech is the first agency whom I met and they give a personal touch to each and every project I have given.
They are professional, courteous and always completed projects on time
. After deployment support, is the key point of our long-lasting relationships. I can recommend Ora Infotech without a doubt and will work with this team for my future projects.

Very happy Again!
Super fast and professional and early finish as was the last time
. I trust her completely and will be coming back

Very happy to work with. a good addition to
making a site ADA compliant.
We deliver SEO friendly wordpress
websites
We are one-stop solution provider for WordPress development Toronto. Hire WordPress website designer for startup to large-scale Enterprise white label solution. It becomes a lot more amazing when we discuss wordpress development services in Toronto, Canada.
Experienced
Reputable

Reliable Partner
Quick Response

Satisfaction Guarantee

One Stop Solutions
FAQs for Website Design in Mississauga
What is the turnaround time for a new website?
The expected turnaround time for a new website is largely based on a number of factors, some of which includes a project's complexity, size of the website, the accessibility of content and resources, and so on. However, on an average, web design Mississauga services can take up to 2-4 weeks.
What is the new website design cost in Mississauga?
The cost of a website varies depending on the functionalities of it. However, on average, a new website design cost in Mississauga can be between $500-$1500.
Should I fix my old website instead of starting with a new one?
Yes, you can fix your website or create a new one depending on the usability and demand. Contact us for best hire web designer Mississauga services today and enjoy pocket-friendly packages.
Can you maintain my site for me?
Yes, we'd be happy to serve you. As the best web design Mississauga agency, we can help you with both custom-based and generic maintenance and updates.
How much do web designers charge in Canada?
Web designers in Canada can charge up to $50-$250/hour, depending on the requirements of a website. Fixed project charges largely vary on customization and other features.
Do you only create WordPress websites?
Ora Infotech is best creative professional agency that deals with Enterprise mobile app development, Laravel website, Fullstack development, Mernstack development,
WordPress plugin development
.